Wall art has undergone robust improvements over the years, to the point that putting it up has become an integral step in interior design. Wall decors are no longer an aspect that you can't ignore altogether, and the plethora of options when it comes to types, sizes, shapes, styles, and themes only urge the inherently artistic and creative to make their ideas come to life.
Whether you're interested in hanging wall stickers and wall decals or wall art prints and metal wall art, consider taking a few minutes to read through the interesting tips we've shared here. "depicts nature's beauty next to actual living flowers and plants, and you'll know what we're talking about."We hope that one or more would give you the inspiration you need to complete the look that you're aiming for. If not, it's always good to be open to trying out something new, right?
1.Try out some DIY craft art.
If you're aiming for 100% originality and for your personality to truly be imbued into any given room, then the best route for you to take is DIY home art. The sky is virtually the limit when you choose this option. 
It will take some time and effort, but it will pay off in the end for the amount of gratification you will get from having created something beautiful — as in the case of anyone who is an artist at heart. Think of unique patterns or try out different wall designs like floral monograms, mosaics, and murals, to cite a few examples. Opting for DIY crafts will only help you save money, assuming you've got the time to do them.  
2.Focus on Geometric Designs.
Geometric wall accents have that inimitable style that can't be mimicked, especially if it's purely about various shapes. You can choose to put up some sexy triangles with a mix of bold and light colors, for example. Even opting for minimalistic black and white shapes can lend a room with a more pronounced masculine touch if that's what you're aiming for.
You can also experiment with hexagons and, better yet, stenciled diagonal stripes. The more daring you are, the better. Even handwoven wall baskets that shine with their depictions of stars and swirling whirlpools shouldn't be left out of the equation.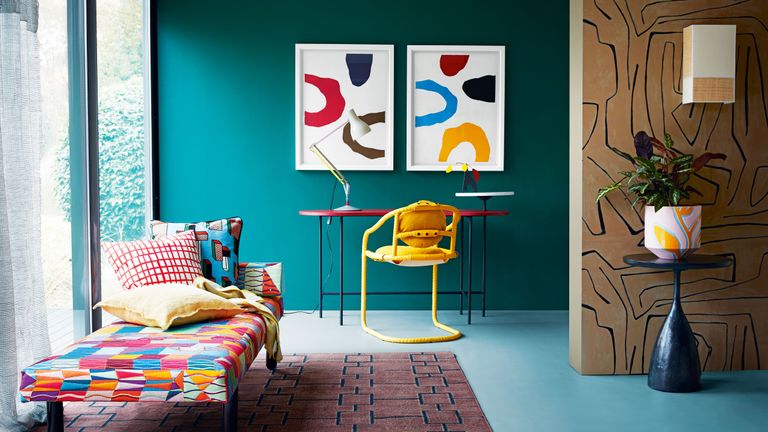 3.Opt for the Iinnovative if you have a Primarily Modern Interior
There are many contemporary wall mirror options that you can use on plain walls to add that much-needed touch of contemporary originality, bordering even on the avant-garde. The same goes for the new styles of shelves that are now available. Modern doesn't always have to be minimalistic. Sometimes, going maximalist could be your ticket to standing out. Also, shelves that can turn into tables for stickmen? Yes, please!
You can even ride on the current trend of using oversized paintings and photographs. A single one can carry the look and atmosphere of an entire room. These are but some of the present-day trends that you shouldn't hesitate to try out.
4.Keep your Doors Open to the Exotic and the Traditional
Some Indian home wall art, thanks to their brilliant use of vibrant colors, can actually add vigor to any room and most often are versatile enough to grace any kind of wall, plain or textured. They tend to stand on their own and catch the eye of visitors while still being able to blend well with the home interior decor of any room.
You can also try out ceramic wall art. These have been around for centuries yet have never lost their sophisticated charm. What's good is that they're very environment-friendly, too! You can also opt to mix porcelain with prints to attain an artsier look.
Lastly, there are thousands of decorative accessories you can try out to attain the comfy look but no less stylish look you want. Simple antiques, despite their age, can restore youth to any room once refurbished.
5.Let Plants Enter the Fray
Did you know that of the many house decoration items that go well with most kinds of wall decor, plants are on top of the list? Large-scale wall paintings and decorations paired with your favorite can slay the competition before long. 
Most arts with neutral colors tend to blend well with the vibrant green colors of indoor plants. This green decor can freshen up your room in more ways than one since some indoor plants filter the air and deliver more wellness-inducing oxygen for everybody. A win-win situation if we can say so ourselves!
There's also an inimitable appeal to the mix of organic and non-organic elements in this kind of combination. Try out placing a picture that depicts nature's beauty next to an actual living plant, and you'll know what we're talking about. 
6.Opt for a Maximalist Approach.
Ever wondered how your room will look once you fill it up with home goods wall art? Who says an art deco home should be limited to the select few? There's no better cure to the boredom and ennui that arise from blank spaces and barren walls than arranging a plethora of paintings and other wall decorations on them. 
Capitalize on every space available, every nook and cranny, and make your adjustments from there. You can even frame each one with gold if Midas's touch appeals to you. And if you're worried about running out of pictures and paintings to work with, you only need to look online for wall pictures for sale or search home good stores near me, and you'll be right back on track in no time. 
Conclusion
With all things considered, wall art ideas only do well to stimulate your imagination. It's always best to add your own touch to any wall hanging or any home decor, for that matter, that you choose to add to any room or section of your home. The vast variety in most home interior shops says as much.