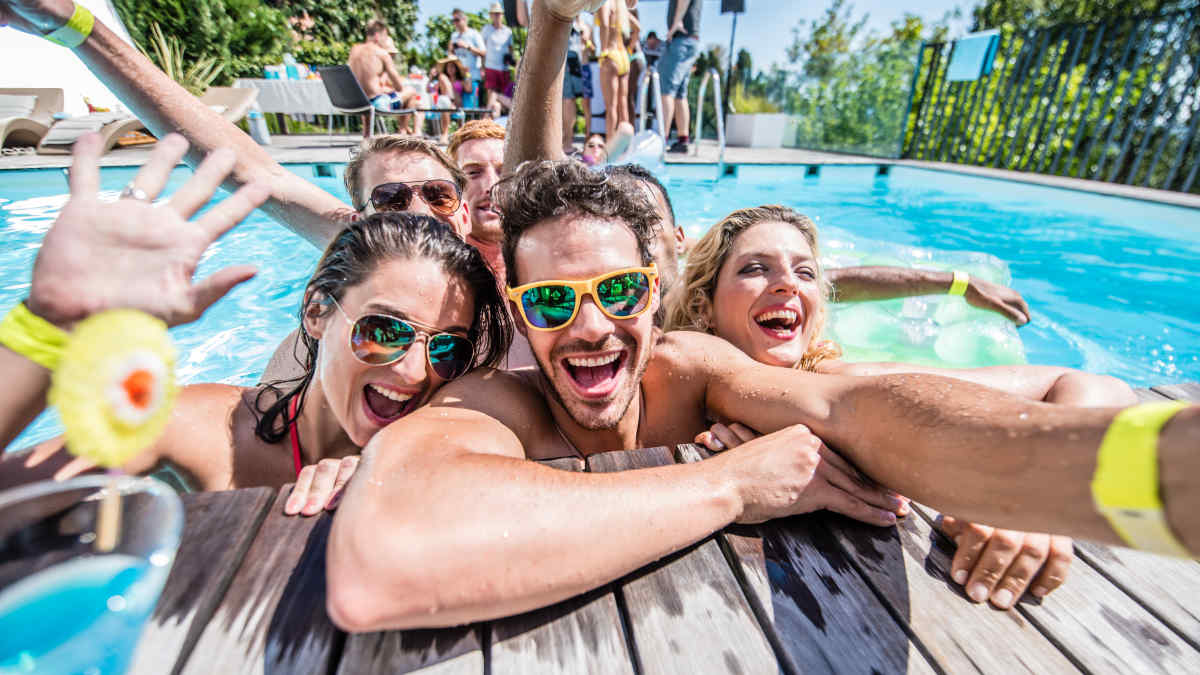 With the summer close by, pool parties are an ideal way to spend the day. Fibreglass pools are durable and can take the load of an excited crowd. Additionally, they look great in a party atmosphere. You can celebrate an event, and every guest will be enthusiastic about a pool party on the horizon.
Pool Parties are Fun
In the height of the summer heat, a pool party is a welcome respite. While a Fibreglass pool offers a great experience, especially if you have one with an additional aesthetic feature like a slide, you need other elements to make your pool party a success. The main factor, besides the inviting pool itself, is the food. You definitely want to have the party, but don't want toil in the kitchen all day while your guests are having all the fun. The best way, you may think, is to simply hire a caterer or order in. Although easy and convenient, this may be a costly option, especially if you want to make pool parties a habit. So What Makes A Pool Perfect For Children?
Take Care
If you have a Fibreglass pool that is the rage these days, you will no doubt want to show it off. Nonetheless, something to consider before you start planning is safety. Whether you have kids or adults, or both, around, you need to think of providing an entertaining yet secure pool party area. Don't have any live BBQ food being made, as electrical appliances near water are not a good idea. See that none of your crockery is made of glass – paper cups and plates are the way to go. No sharp objects, such as metal forks, knives, and spoons should be in the party area. Plastic ones will do just fine.
Home-made Treats
As much as you think home-made food is a tedious way to feed your guests, you'll be surprised that it isn't. It's not only easy but turns out to be cost-effective. Not only that, it's a healthier pool party food alternative. Your guests will appreciate it and remember your party for decades! Perfect party food to have in the vicinity of your Fibreglass pool is finger food. The plus is that it is easy to make. Not too heavy on the gut, especially as swimming and activity are at their peak, finger food is easy to handle and less messy on the whole. Some great ideas for simple yet tasty and healthy party food exist, and they are mentioned below.
Aussie Sliders
Sliders are mini-burgers that can be munched up in a single mouthful by some! Made from roast chicken or kangaroo, they offer a healthy option filled with protein and iron. The smaller the patty, the better. You can combine with lettuce and cheese or add a dash of mustard. Prepare this great finger food in advance and store it in the fridge. The roast chicken or salami variety tastes nice cold too.

Small Salad Skewers
Pool party food never got easier with this handy snack that you can make out of virtually any ingredient, from cold cuts to delish salad vegetables. You can have small skewer sticks, say about 6 inches long, and slide anything onto them. Make sure the stuff that you poke into the skewer is dry stuff. Options can range from small cubes of focaccia bread, cherry tomatoes, cubed cold cuts, lettuce leaves, and olives to small pieces of egg whites and cubes of cucumber or zucchini. Drizzle with chili or soy sauce if you want.
Varieties of Cubed Cheese
Who doesn't love a platter of mixed cheeses? You can have varieties like goat cheese, Baby Bell, pieces of smoked Pepper Jack – literally any hard cheeses that come to mind. Have a bowl of plain or herb crackers at the side, in case people want to blend cheese and crackers. Stick toothpicks into the cheese so that it's easy to pick up and run! A snack table with cheese will add style and pizzazz to your Fibreglass pool area.
Chips and Salsa
Corn chips, either flavored or regular, are preferred finger foods with many folks. They remain outdoors without getting soggy and don't need any heating up. Just plop them into a large bowl. You can have two flavors, just to add range. Have a simple salsa at the side. Remember to have bins posted at strategic areas, plus party wipes/tissues that guests can freely use.
Sweet Corn
Convenient to eat and easy to prepare, char-grilled corncobs (pick smaller sizes) make great snacks. Add knobs of butter after grilling or crumbs of feta cheese. You can also add jalapeños, but this may make it messy. Leave the cobs in the ears when you cook and serve. Sure, you want to show off your Fibreglass pool, but you want to be proud of the innovative food you serve too!
Lettuce Cups
Feed those hungry swimmers, who are probably tired out after plunging into your Fibreglass pool, with these easy-as-pie yet tasty snacks. Lettuce, by its shape (iceberg or butter lettuce works well) can be cut in halves to make bowls or "cups". You can fill these with mince, corn, kidney beans, and anything on the planet – even chopped mushrooms and cheese.
Alternately, you can use red/yellow/green capsicum as cups to hold any filling. Cook the filling ingredients beforehand and leave the cups raw (as they can be eaten that way, except for the green capsicum). Then just fill cups on the day of the party. You can also grill the whole cup, filled, and then serve. This may be more tedious and time-consuming.
Other Bites
Baby quiches, mini pizzas and even grilled varieties of sausages work well as pool party food. Think out of the box and always have more food than you think may be needed. You can't predict how hungry guests may be. If you have kids around, there'll be more hunger. The last thing you want is to run out of food for ravenous creatures!
Desserts and Drinks
For dessert, you can have anything from a dry Madeira cake (cut into pieces), to individual tiny cupcakes. Mini cheesecakes can be a good option too – they can be stored in the frig and had later. A no-bake sweet pie (usually lemon) works well, and you can find a million recipes for no-bake desserts. Just store the night before in the frig and serve later.
Though it's easy to succumb to no-fuss soft drinks for your party, try to go the creative way and make some mocktails (served in paper cups or dollar store paper goblets). Not only will these be appreciated, but they will match the atmosphere of your swanky Fibreglass pool. Make a ginger punch with a blend of apple juice, ginger beer, and lemonade. This tastes like shandy, but with an apple twist). If you have mainly adults, you can always have beer, straight up pints. Nonetheless, the risk of a bottle breaking while someone is on a slippery floor may be high.